"Building Teaching Skills through the Interactive Web" is a course that calls for change. It would have been great if all of my colleagues had the chance to take such a course, but then for the sake of a wider dissemination, it is my duty now to "spread the benefit" whenever it is possible. If I were to tell any of my colleagues what I have learned during the course, I would start by sharing with them how lucky we are
to have technological tools at our disposal and how far yet close we are from making proper use of them. It is true that we haven't been using these tools to their full extent, but doing so is not that difficult. It is very much a matter of training.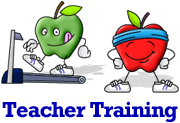 In that context, I would also share with them that underlying any change is one essential and preliminary fact about our role as teachers. We teachers should always go through a learning process; we need to train ourselves to be autonomous, risk takers, up to date, and most of all reflect on our experiences. It is a willful process that is the result of personal effort and outside assistance. It is useful and fun to be learners!! Obviously, our choices affect our students: if we equip ourselves not only with the "what" but also with the "how" and the "why", we could make their learning process run more smoothly, and we could provide them with better opportunities to stand on their own, work to improve their skills, take risks, and reflect on their effort. One such excellent opportunity that has a comprehensive range of benefits is integrating digital tools in their learning process. It is about time we face that challenge and give our students such an overdue chance.